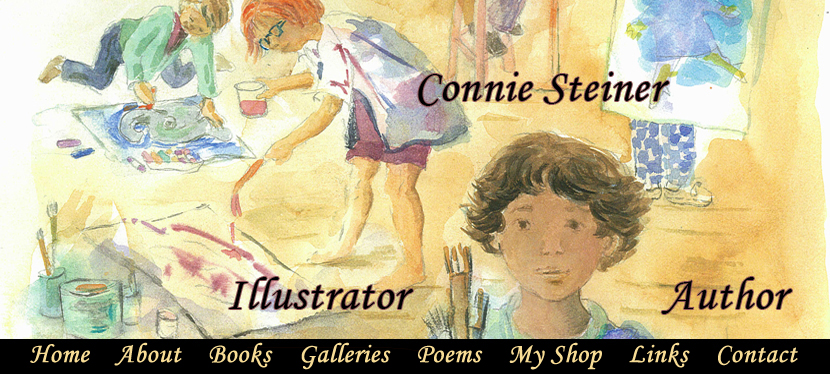 When I was very small I drew in the margins of my parents' books. I must have thought what good are books without pictures? But my mother didn't mind. She was a painter and Philadelphia public school art teacher who approved of children using their imaginations.

I loved reading, with or without pictures. By the time I realized Peter Pan was not going to fly over to my neighborhood, it occurred to me that artists made books fly. I began to wonder what it would be like to be a children's book illustrator or writer - maybe both.

My older brother played piano and my father sang songs from musicals and operettas. The beautiful sounds provided a link between music and art, causing me to find the visual music in drawing and painting.

At Girls' High School, in Philadelphia, I majored in art, graduated with an art scholarship. I attended the Pennsylvania Academy of the Fine Arts, the University of Pennsylvania, earning a BFA. When I married and became a mother of two, reading to my children brought me close again to children's literature and made me aware of my desire to participate in it. I got out my watercolors and started to create a portfolio, but my first professional assignment was not for a book. It was for television.

We moved to Winnipeg and I discovered that Canadian Sesame Street had an office downtown in the CBC (Canadian Broadcasting Corp.) building. There was nothing to lose, so I gathered my courage and phoned for an appointment. The people there liked my work, but explained they really needed a writer and hired me to come up with a few lines - something Canadian or something French. Not only did they accept my words, they gave me the job of illustrator. The animators could take it from there.

With the help of an English-French dictionary and the bilingual cereal boxes, I conjured a short verse inspired by my four-year-old girl's ballet classes. In two or three weeks, I handed it in along with a folder of pencil sketches drawn from watching children at the school of the Royal Winnipeg Ballet. Not only did they accept my words, but they gave me the job of illustrator. "J'aime la danse" was set to music. The sketches blossomed into a series of simple watercolor paintings. For the next decade and a half, I would work as a writer and artist for Canadian Sesame Street.

This led to the publication of several picture books.


On Eagles' Wings and Other Things was my first published book. I was both artist and writer.



Paul's New Ears, which I also wrote and illustrated, was expanded from one of my Sesame Street vignettes.



In Other Words came out next. It was written by John C. Walker and illustrated by me.



Shoes for Amèlie was written by me and illustrated by Denis Rodier. Based on true events in World War II France, Shoes for Amèlie was my first foray into extended writing. A Canada Council grant allowed me to travel to Le Chambon, in south central France, to do the research. It came out in 2001, was nominated for a number of prizes, and won the McNally Robinson Book for Young People Award.

Art and writing are often connected, but even if you write and illustrate publishers will often use another illustrator for your book or they will want to use your illustrations to make someone else's words sing. In any capacity, it is a thrill to be part of the creation of a children's book.

I love to visit schools and libraries to share my books and workshops. I have taught art in galleries and in schools for Continuing Education programs. My husband and I now live at the Jersey shore, enjoying the outdoor vistas of sea and sky and the indoor antics of our Ragdoll cat, while I continue to paint, write, and teach.